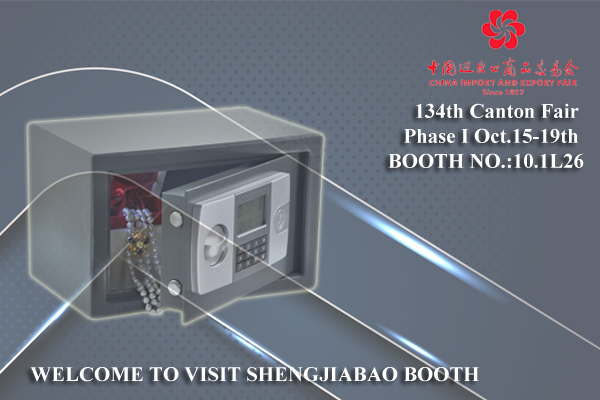 To SHENGJIABAO valued customers,
We are delighted to introduce to you the renowned Canton Fair and inform you that our factory will be participating in the 134th edition of this prestigious event. Our booth number is 10.1L26 from Oct 15th -19th
The Canton Fair, also known as the China Import and Export Fair, is a biannual trade fair held in Guangzhou, China. With a history spanning over six decades, it has become one of the largest and most comprehensive trade fairs in the world. The fair serves as a platform for businesses from various industries to showcase their products, establish connections, and explore potential trade opportunities.
As a leading safe box manufacturer in our industry, we recognize the importance of staying updated with the latest market trends and connecting with our valued customers and partners. The Canton Fair provides us with an excellent opportunity to achieve these goals. By participating in this event, we aim to strengthen our relationships with existing clients and forge new partnerships with potential customers.
Attending the Canton Fair allows us to gain valuable insights into the market, understand the demands of our customers, and adapt our strategies accordingly. It is an opportunity for us to showcase our commitment to excellence and demonstrate our dedication to providing you with the best products and services.
We would be honored to have you visit our booth at the Canton Fair. Our team of experts will be available to provide you with detailed information about our products, answer any queries you may have, and discuss potential collaborations. We believe that this event will serve as a platform for us to strengthen our partnership and explore new avenues of growth together.
We understand that not everyone may be able to attend the Canton Fair in person. However, we assure you that our team will be more than happy to provide you with any information or assistance you may require remotely. We will ensure that you receive the same level of attention and service as if you were present at the fair.
---
Post time: Oct-12-2023